Connecticut Sun center Jonquel Jones opts out of the 2020 WNBA season; Mystics players Natasha Cloud and LaToya Sanders join exodus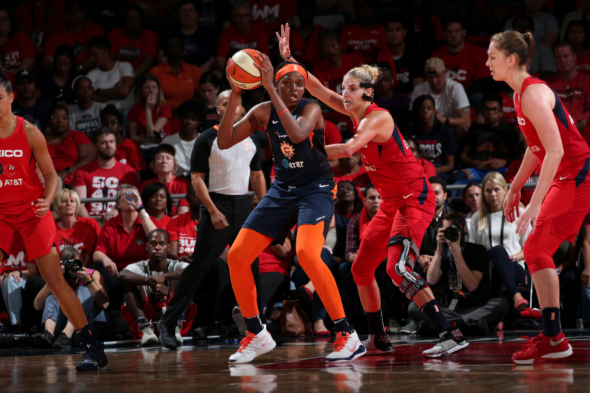 Photo: NBAE/Getty Images
Update: Washington Mystics players Natasha Cloud and LaToya Sanders decide to sit out season
The Connecticut Sun announced that center Jonquel Jones will not play during the 2020 WNBA Season. A native of the Bahamas, Jones has been home since she left overseas when her team in the Russian Women's Basketball Premier League, UMMC Ekaterinburg, ended play. Atlanta Dream guard Renee Montgomery announced she would sit out the season on Friday. The Sun indicated on the same day that the team had not yet heard of any player on the team had decided to skip the season.
"After careful thought and consideration I've decided to forego the upcoming WNBA season and use this time to focus on personal, social, and familial growth," Jones said. "This was one of the toughest decisions I've made but the resurgence and unknown aspects of COVID -19 have raised serious health concerns that I do not feel comfortable competing in. I'd like to thank the Connecticut Sun organization,? my teammates and fans for their unwavering support and understanding. While I won't be competing this year I'm looking forward to lacing up with my teammates in 2021 and continuing the pursuit for a WNBA championship. Wishing the entire league and everyone involved a healthy and enjoyable season. Go Sun!"
WNBA players have until June 25 to decide if they are going to opt out of the season. Teams are scheduled to play in a bubble environment in Bradenton, FL for a truncated season due to the coronavirus pandemic.
"On behalf of our entire organization, we fully support JJ's difficult decision to sit out the 2020 WNBA season during these unprecedented times," Sun general manager and head coach Curt Miller said. "We recognize the amount of unique challenges, sacrifices, and unknowns this season presents, and from the top down, there is an unwavering commitment to support each player's respective decision. We look forward to having JJ back leading us next summer."
Jones, who signed a multi-year contract with the Sun in February, is a 2019 WNBA All-Star, helped lead the Sun to game 5 of the 2019 WNBA finals, the team's first appearance in the finals since 2005. Last season she led the league in both total rebounds (330) and blocks (68) and was also named to the WNBA All-Defensive Team.
---
The Washington Mystics announced that players Natasha Cloud and LaToya Sanders have also decided to sit out the season bring the number of players skipping the truncated schedule to four.
From the Mystics:
Washington Mystics General Manager Mike Thibault announced today that Natasha Cloud and LaToya Sanders have opted out of playing for the 2020 WNBA season.

"We respect and support Natasha's decision to prioritize her life and goals," stated Thibault. "Her commitment to social justice issues is of utmost importance to her and, therefore, to the Mystics organization.  We will continue to be partners with her and all of our players on their commitment to social justice reform as we go forward into this season and beyond."

Cloud, who helped lead the Mystics to their first WNBA title last season, has spent her entire five-year career with the franchise. She averaged a career-best 9.0 points per game and 5.6 assists per game in 2019.  Originally selected in the second round (15th overall) of the 2015 WNBA Draft, Cloud is Washington's all-time leader in assists (617).

"This has been one of the toughest decisions of my career but I will be foregoing the 2020 WNBA season," stated Cloud.  "There are a lot of factors that led to this decision, but the biggest one is that I am more than an athlete. I have a responsibility to myself, to my community and to my future children to fight for something that is much bigger than myself and the game of basketball. I will instead continue the fight for social reform, because until Black lives matter, all lives can't matter."

Sanders averaged 6.1 points and 5.5 rebounds for the Mystics last season. The 6-3 forward joined the team in 2015 and has been an integral part of the team's championship success. She has set numerous milestones with Washington, including recording 48 blocks in a season in 2015 (second in franchise history for the most blocks in a single season).

"We understand and respect LaToya's decision and will miss her both on and off the court as we head towards the upcoming season," added Thibault.  "She has been a big part of our success over the last several years and we look forward to her continuing to contribute for us in 2021."

In five seasons with Washington, Sanders has averaged 7.2 points and 5.9 rebounds in 89 total games.

"This was not an easy choice to make, but after much thought and conversation I do believe it is what's best for my health and family," said Sanders. "I wish my teammates and the entire Mystics family the best this season and I will continue to watch and support them."