The Pac-12 announces conference matchups for the 2021-22 season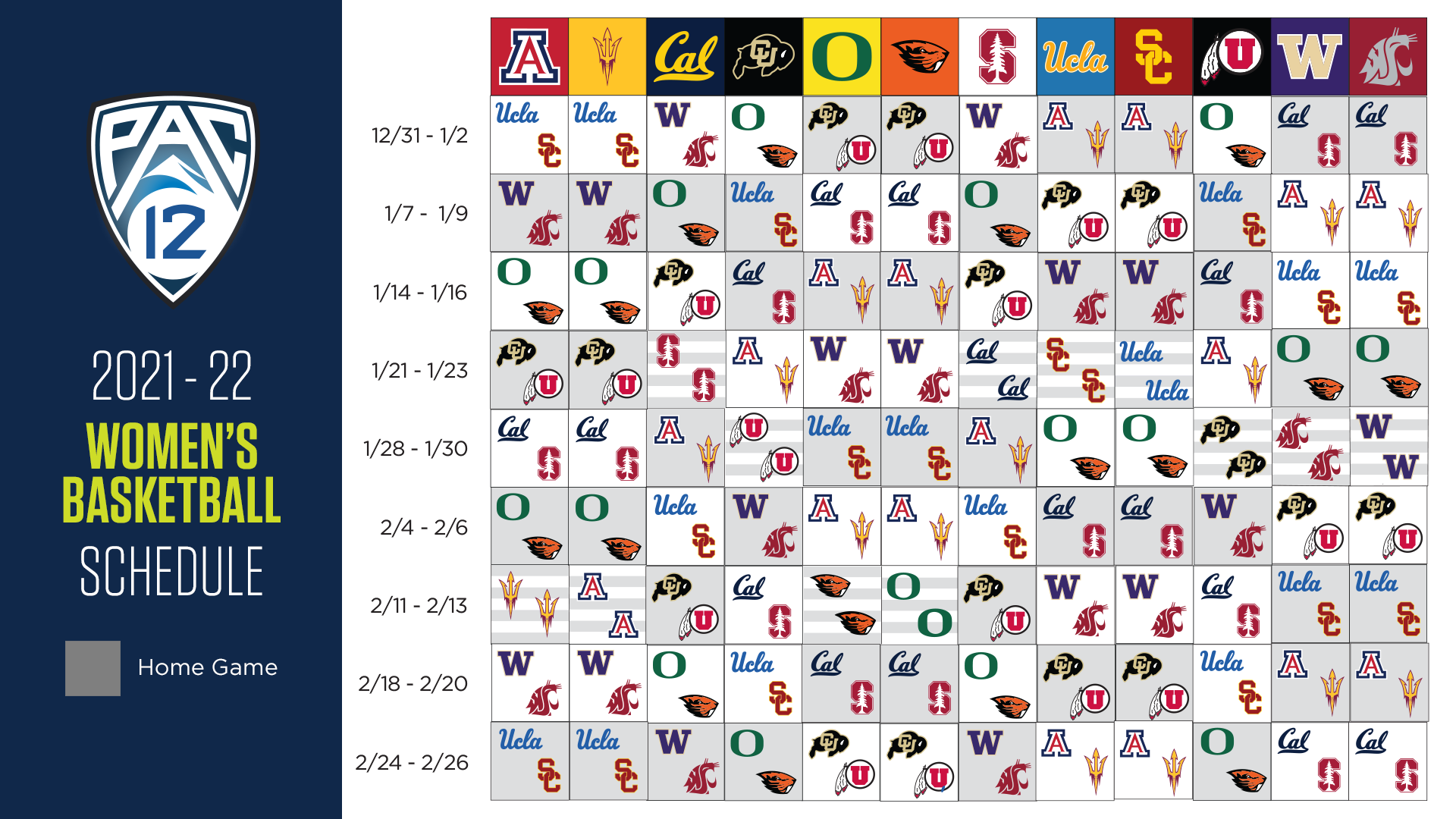 Conference matchups for the 2021-22 Pac-12 season are set. League play begins on Dec. 31 and runs through Feb. 26. The first weekend of action includes the reigning national champion Stanford taking on Washington and Washington State over the New Year's holiday.
The league will announce dates and times for games after the finalization of television partners. Each team will play 18 games.
The 2022 Pac-12 Women's Basketball Tournament is scheduled for March 2-6 at Michelob ULTRA Arena at Mandalay Bay in Las Vegas.
Pac-12 Women's Basketball 2021-22 Conference Matchups

Weekend of Dec. 31-Jan 2
Arizona/Arizona State at UCLA/USC
California/Stanford at Washington/Washington State
Colorado/Utah at Oregon/Oregon State 
Weekend of Jan. 7-9
Oregon/Oregon State at California/Stanford
UCLA/USC at Colorado/Utah
Washington/Washington State at Arizona/Arizona State
Weekend of Jan. 14-16
Arizona/Arizona State at Oregon/Oregon State
California/Stanford at Colorado/Utah
Washington/Washington State at UCLA/USC
Weekend of Jan. 21-23
California vs. Stanford (one home, one away)
Colorado/Utah at Arizona/Arizona State
Oregon/Oregon State at Washington/Washington State
UCLA vs. USC (one home, one away)
Weekend of Jan. 28-30
Arizona/Arizona State at California/Stanford
Colorado vs. Utah (one home, one away)
UCLA/USC at Oregon/Oregon State
Washington vs. Washington State (one home, one away)
Weekend of Feb. 4-6
California/Stanford at UCLA/USC
Oregon/Oregon State at Arizona/Arizona State
Washington/Washington State at Colorado/Utah
Weekend of Feb. 11-13
Arizona vs. Arizona State (one home, one away)
Colorado/Utah at California/Stanford
Oregon vs. Oregon State (one home, one away)
UCLA/USC at Washington/Washington State
Weekend of Feb. 18-20
Arizona/Arizona State at Washington/Washington State
California/Stanford at Oregon/Oregon State
Colorado/Utah at UCLA/USC
Weekend of Feb. 24-26
Oregon/Oregon State at Colorado/Utah
UCLA/USC at Arizona/Arizona State
Washington/Washington State at California/Stanford