LSU Downs Iowa 102-85, Tigers Win First National Championship in Program History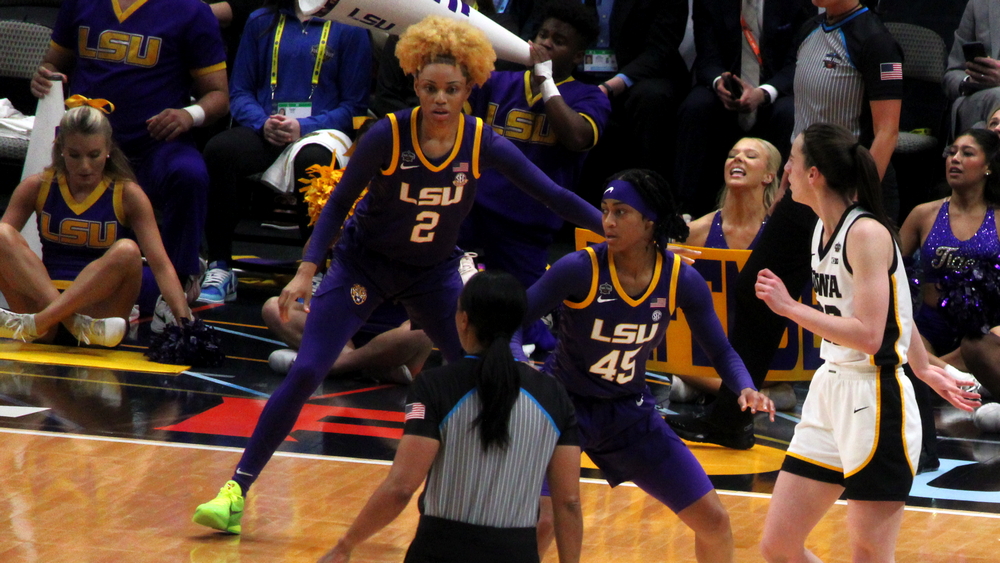 DALLAS – With the backdrop of a sell-out crowd at American Airlines Center, LSU (34-2) won its first-ever national championship with a 102-85 victory over Iowa (31-7) Sunday afternoon. 
Guard Jasmine Carsons's prolific shooting in the second quarter propelled the Tigers to the title under the leadership of second-year head coach Kim Mulkey. The win marked the fourth championship for the Hall of Fame Coach who arrived in Baton Rouge two seasons ago after a storied career at Baylor. Mulkey assembled a team that included nine newcomers which inspired the season's theme "Piece It 2gether." 
Sharpshooter forward Angel Reese, who transferred from Maryland, is one of the newcomers who helped LSU power through the tournament. She was named the Most Outstanding Player of the Final Four.
"I'm super happy for the program first," Reese said. "but this is bigger than me. I mean, I had so many goals coming into LSU, but I didn't think I was going to win a National Championship within my first year at LSU."
Stopping Iowa
After a hot start by Iowa at the game's outset, Tigers head coach Kim Mulkey called a timeout to recalibrate her team. LSU finished the quarter leading 27-22. Even as LSU cooled Iowa's jets, the nation's leading scorer, Hawkeyes junior guard Caitlin Clark, still managed to score 14 points in the first ten minutes.
However, getting those shots up was harder for Clark than usual and Mulkey attributed that to the defense of fifth-year senior guard Alexis Morris.
"We knew Caitlin was going to shoot the ball," Mulkey said. "We knew she was going to make her threes. But we couldn't give her the 10 to 12 points she always gets off of layups. I don't know if I'm right, but I think she may have only gotten one inside the arc tonight. She had free throws and those threes, but I'd have to break this stat sheet down. She didn't get many layups in the arc."
Iowa only led in the first few minutes of the game. The Tigers never fell behind after that. After outscoring Iowa 32-20 in the second quarter highlighted with excellent three-point shooting from graduate student guard Jasmine Carson, LSU went into the break with a 59-42 lead.
The Hawkeyes came close to having enough momentum to turn things around a few times in the latter part of the third quarter, getting within seven points with about two minutes left in the period but LSU never wavered. The fourth quarter sealed the deal with both teams shooting furiously and the Tigers outpacing the Hawkeyes 27-21.
Top Performers
Led by Carson who scored 22 points off the bench, LSU had five players in double figures. Morris added 21 points and nine assists. Graduate student forward LaDazhia Williams contributed 20 points plus five rebounds. Reese finished with a double-double of 15 points and 10 rebounds, plus five assists. Freshman guard Flau'jae Johnson scored 10 points, pulled down seven rebounds, and dished out four assists.
For Iowa, Clark led with 30 points plus eight assists. Fifth-year forward/center Monika Czinano scored 13 points along with six rebounds. Redshirt senior guard Kate Martin also had 13 points and had six assists.
Czinano and senior guard/forward McKenna Warnock both fouled out in the fourth quarter, weakening Iowa in the face of LSU's offensive onslaught and defensive pressure.
Hawkeyes Still Proud
Even in the loss, Iowa celebrated having a banner season as the Hawkeyes reached the national title game for the first time in program history with fans showing up in the thousands at away sites during Hawkeyes' tournament run.
"I'm so proud of my team," head coach Lisa Bluder said. "I'm proud of the women they are. I'm proud of what they stand for. The Iowa fans that came here in droves, I'm so thankful for them. I'm thankful that I get to coach at a university like the University of Iowa."
An Emotional Mulkey
Mulkey, a Louisiana native, who accomplished the incredible feat of winning a national title in just two years recalled how she felt as the game began to wind down.
"With about 1:30 to go, I couldn't hold it. I got very emotional. That's really not like me until the buzzer goes off, but I knew we were going to hold on and win this game. I don't know if it's the mere fact that we're doing this in my second year back home. I don't know if it was the fact that I am home. I don't know if it was looking across there at my daughter and my grandchildren. I don't know if it was looking across at LSU. I don't know what it was, but I lost it."
The Tigers return home Monday morning and will greet fans at noon CT at the Maravich Center.
All-Tournament Team
Angel Reese, LSU (Most Outstanding Player)

Alexis Morris, LSU

Jasmine Carson, LSU

Caitlin Clark, Iowa

Zia Cooke, South Carolina